Ahead of the 2019 London Yoga Festival, writer and yoga therapist Miranda Taylor spoke to the experienced yogi, activist and triyoga teacher Stewart Gilchrist about a fundamental shift that is at the core of yoga's message to the world.
Find out more about Stewart's upcoming four part workshop series: 'digital dharma – radical authentic yoga in an online world' beginning 4th July 2020. 
"Welcome to the sweaty zone," Stewart's soft Scottish accent belies his famous military-style yoga instruction and woe betide any student that steps out of line or takes a small breather during the 90-minute strong astanga-style practice at a studio, London 4th July 2019. The 'vinyasa' is hardcore, the music ranges from techno to Cliff Richard, the yoga philosophy is hammered home between impassioned speeches from political inequality through to animal activism, personal and responsibility.
There is no escaping the phenomenon that is Stewart Gilchrist. His head is clad with regal grey dreadlocks bunched up neatly, his lean chest is bare, his frame diminutive. At 58 years old, Gilchrist has done his yoga time. He's been practising since 1998 and coincidentally we meet 33 years ago to the day after he broke his back. Some time soon after he became curious and a little jealous of his girlfriend's dedication to her daily practice. She encouraged him to give it a try and despite terrible stiffness, injury and continued drug and alcohol addiction, Gilchrist stuck with it – with teachers ranging from Jennifer Dale and Sabel Thaim at Surya Yoga in Clapham, to Hamish at the homeopathic hospital in Great Ormond street, to Pattabhi Jois in Madras and then off with Sharon and David of Jivamukti in New York via Maui and India of course.
Still today, Gilchrist provides a strong 'Marmite' effect for those who might stumble into his studio unawares. You are either going to love or hate his classes. Mostly he attracts yoga teachers who are addicted to their physical practice. "But they haven't studied the yoga texts or even are familiar with what 'klesas' are," Gilchrist sighs. It's a physically-honed intimidating bunch of 20 and 30-somethings and he gives them what they crave – sweat and pain, and serious teachings with just a hint of masochism thrown in for the unaware.
But meet him one-to-one and the man becomes more nuanced and a lot more approachable than the fierce image he projects. As a trained lawyer he was motivated to 'understand the language they use to control people'. However, even though he was accepted to become a barrister and he finished his solicitors' exams, he realised that it was too conventional a world for him, controlled by wealth and aristocracy. And he was also battling his own demons.

"Yoga helped my anger and addictions. When I started astanga every morning I still had loads of problems. Now I say, don't do yoga with a goal in mind… just practise – that's what Vyasa says, and don't be attached to the practice at the same time. There are too many ashtangis who are attached to their practice. If I get injured, I go 'yes' I get a break."
Nowadays he boasts a strictly vegan diet, absolutely no drugs or alcohol (unless raw chocolate counts) and he teaches up to 500 students a week in his classes and teacher trainings.
Unsurprisingly, his upbringing was steeped in religious extremism and violence. His family were Calvinists from Largs a small remote town in west Scotland. Racism, stabbings, fights and xenophobia were his milieu. "I fought Catholics daily up until the age of 14." There was total segregation between the Catholics and Protestants.
Stewart Gilchrist found his escape through his athletism and a remarkable sense of adventure. While his sister and brother stayed behind in his hometown within their religion, Stewart rebelled – something he seems to have been doing ever since. His brother works for IBM in his hometown – as he has no doubt he would be doing if he hadn't left, and his sister is a chief mason – also an academic lecturer in architecture. He still sees his sister but the only time he becomes visibly sad and uncomfortable is when I ask how relations are with his brother. "Not good. It's hard" – his hands are wringing and his voice is soft at this point.
Sport, study and rebelliousness were to be Gilchrist's escape from such a suffocating environment. He was equally good at golf and football – eventually choosing football to train seriously with a national Scottish team who's coach was Eric Sorenson, Danish. "He was trained at a special school of Nels Bukh, author of Primary Gymnastics. So, four nights a week I'm training with him very seriously. Running up sand dunes with plastic bags on your back. Doing all those exercises that you've seen that are familiar from the practice I've just taught."
It was this hard, physical training that felt familiar when he found his way back to yoga. "When I started doing the asanas I felt as thought I'd done them before," and so when he asked his friend in Denmark to do some research on his old coach Eric Sourenson, he discovered he had been trained by Edmund Bourke – who had been employed by the Third Reich to train the Nazi army. Stewart Gilchrist maintains that the sequence of primary gymnastics, such as the high lunges, come from here.
Our modern-day view of 'ahimsa' – non-violence, is not the same as ahimsa from the old masters according to Gilchrist. "One day in conference Patababi Jois said he was hit with a stick while training. I instinctively knew when to stop and leave and that's when I went to New York to train with David and Sharon."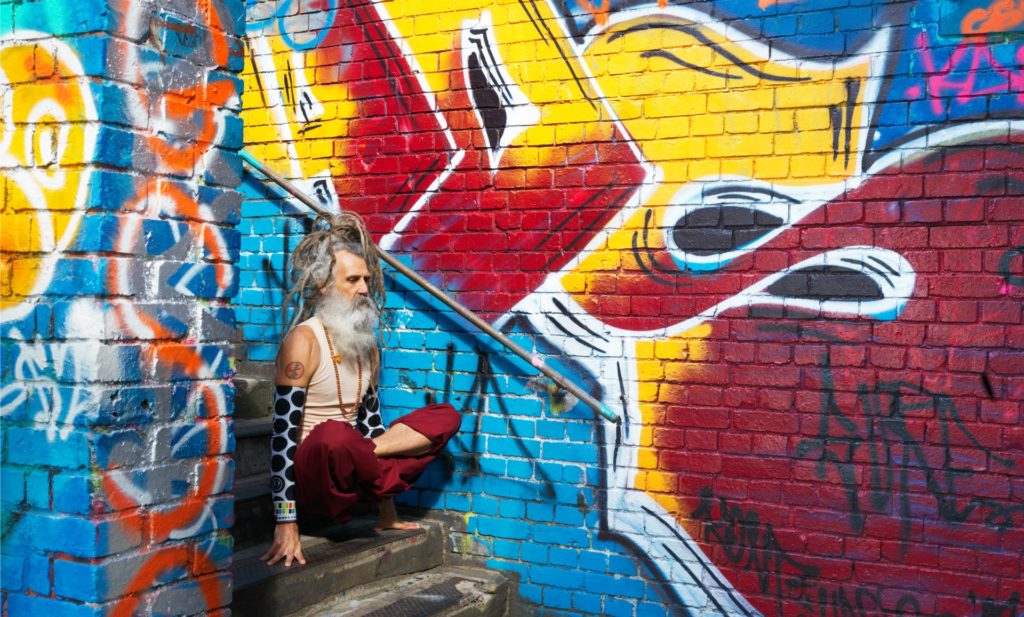 Stewart Gilchrist insists he doesn't agree to teach at many festivals – despite being about to leave for Boom Town, which his nephew founded and for the first year is creating a Yoga Field and children's area. "It's totally lawless, the closest thing you get to Burning Man." He also bought up his kids near Glastonbury where he lived with his first wife and two sons who are now, 27 and 28, and don't practise yoga as yet. "They will!" he sighs benignly.
His love of underground music led him to perform with Goldie at a Mind, Body Spirit show – 'as a favour to him because he gave me drum n' bass.' He reminisces about the old days of music when Talvin Singh put tablas to drum and bass, Massive Attack and Soul II Soul were central to the music scene and central to yoga for him then. He loves to hear gayatri mantra to dubstep and om to drum and base. Even though he would be consistently told off for playing music while he practised he persisted. "Have you ever been to an Indian temple with all the symbols and chanting? It's a racket." Not even a 2,000-year-old tradition will stop Gilchrist in his tracks and that's probably a good thing. "The Californians were putting music in their classes in the 90s."
Coming up against the authorities appears to be a recurring theme for him though and unfortunately the Indian authorities have decided that he cannot go back to India and teach yoga for being there on the wrong visa. "No one can and if they are, it's illegal. But I got caught because one of my assistants made unwanted advances towards a student of mine, so I sacked him. He then went to the authorities to say I was teaching illegally." Despite spending thousands of pounds on legal fees and visiting the embassy every week he has had no success over-turning their decision. Still it seems the activist is on the wrong side of the law.
"Anarchists say if you hate something change something." Gilchrist says that, at this year's London Yoga Festival, the theme of 'Kriya: Action' chimes with his life's mission. "The workshop I do right now is called 'a new yoga dharma for a f***ked up society'. Five million children in Britain can't have breakfast every morning; eight million people go to food banks every day, mostly civil servants. That's really depressing in one of the richest societies in the world, where businessmen and politicians are rewarding themselves with millions of dollars a year when millions of people are starving. That's a f***ked up society to me.
'We as yogis can work with engaging people with a social conscience. Karma is action, karma is doing something. It's not sitting about meditating and hoping everything will be all right again. It will still be shit, unless you wake up and change something.
'Which is the same as: the only real obstacle to yoga is laziness, which comes back to where we started."
Stewart Gilchrist teaches a regular weekly classes with triyoga online. Click here to view Stewart's online class schedule at triyoga and to book your spot.
Click here to learn more about Stewart's upcoming four part workshop series: 'digital dharma – radical authentic yoga in an online world' beginning 4th July 2020.