our story
triyoga Primrose Hill opened its doors on the 19th February, 2000 and whilst we've all changed (thanks to yoga of course), aged (gracefully) and matured (marginally), our aim is the same: to inspire and help people lead healthier lives, in whatever way they want.
triyoga was founded by Jonathan Sattin with the intention of creating the highest quality centres for true wellbeing. Places that combine the three key elements of yoga, Pilates and treatments (with some updates such as Gyrotonic and Barre) and that support a community of teachers, therapists, students and staff who feel triyoga is their home – that they belong here.
When we say the highest quality, this is not marketing speak. In all of our centres, we have sought to honour both the history of yoga as well its ever-changing landscape. We work with the best teachers who offer a broad range of authentic styles, so that people can find a class and teacher that suits them. We hope that by offering this variety, everyone – regardless of age, size, gender, fitness, diet and lifestyle – can develop a practice that they enjoy and benefit from.
We've created each triyoga centre to be a sanctuary away from the noise and bustle of London life; somewhere calm and tranquil, that can be a part of people's everyday lives. We also hope to dispel the myths surrounding who can practise yoga, because it really is for everyone – hence, 'everyone triyoga'.
The road to triyoga's opening is scattered with a number of what – in retrospect – have become amusing anecdotes. But when you're experiencing them the first time around, you might politely call them challenges.
On the day we opened, we offered free classes to everyone. We were worried that no one would turn up but when we opened our doors, there was a queue from our mews into the street (the next day, however, was a little different). The week before, we had watched as the rain caused the newly painted triyoga logo to melt down the wall (the sign writer swore that it was the first time this had ever happened). Builders and deliveries were also unable to reach us due to the ditch dug in our courtyard for the new gas main. But nothing was going to stop us from opening.
Our first yoga schedule offered about 70 classes, with a wide range of styles. We also included daily community classes (at half price) as well as kids classes for the first time in London. Over the years, we have also run yoga and Pilates for sports programmes including football, tennis, golf, skiing, runners and athletes.
For Pilates and treatments, the same principles apply: the best teachers and best therapists. Everything we offer supports our aim: to provide true wellbeing – inside and out.
From the beginning, alongside our brilliant and inspiring teachers on our schedule, we continue to invite the world's leading teachers throughout the year to offer workshops at triyoga. Every year, we welcome some 30 guest teachers from home and abroad.
triyoga Covent Garden opened in 2003, Soho in 2005 and Chelsea in 2011. In 2014, we moved from Primrose Hill to Camden.
Other milestones include launching the triyoga Teacher Training in 2005 to train and inspire teachers of the future or for those who simply want to deepen their practice and understanding of yoga, and launching triyoga Hot in 2011 for those who like to sweat.
triyoga owes its history and its future to the love and hard work of all the people and dogs who work or teach here, past and present; those who have invested in us; all the students and clients who have practised in our studios or visited us to see our therapists or our cafés and, ultimately, to grace.
Thank you.
what people say about us
"The centre for all things yogic. Whether you're a beginner, an old hand, or a kid - whether it's hatha, ashtanga or Pilates, this is the place for you."
Independent on Sunday
jonathan's story
cigarettes + coffee
In 1985, I was a senior partner in my own west end law practice. One of my partners who always thought I was a little 'left of centre' suggested I try a yoga class. In my first class, I lay there with my eyes closed. I could see in my mind a wall of mirrors, and I was running away, not wanting to look at myself in the mirror. For some reason, I knew it was time to stop and take a good look. Within a few months of practising yoga, and as corny as it may sound, it completely changed my life. I gave up smoking (40 cigarettes a day) and coffee (14 mugs a day with at least 2 sugars), and made a few other health tweaks along the way. It wasn't that I suddenly gave up practising law, shaved my head and wore orange robes (never been my colour), but yoga, combined with meeting my teacher, Gurumayi Chidvilasananda, were catalysts for change.
sharpened instinct
Practising yoga (on the mat) and in a broader way, increased my awareness and instincts across my life – from the way it improved my football (without losing any of my highly competitive streak) to the way I now practised law with a difference – trusting my instinct as much as knowledge and experience.
I am grateful for everyone who was involved in the early days and those who continue to keep triyoga shining today.
changing lanes
In 1996, after many years of being certain that law wasn't my future, I decided to stop practising law without knowing what I would do next. Flakey? Maybe. Scary? Yes, but somehow I knew that it would be okay (easy to say that now). What came next? I started looking at what it was I wanted to do. In the meantime, I was involved in the set up of Yo! Sushi and Protocol Multimedia Talent Agency. Eventually, I came up with a concept for the health and leisure industry of a holistic health club called 'tribeca'.
Teddy started networking
I was walking on Primrose Hill with my golden retriever, Teddy, and met a lovely Hungarian Vischler called Scout. Teddy and Scout became best friends. Through this, I met and became friends with Ford Ennals and his wife, Tina Gaudoin. Ford helped with the tribeca business plan. This project never quite got off the ground, however, and took a new turn.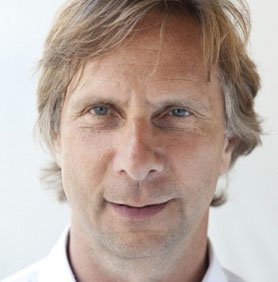 tribeca became triyoga
I was talking to some friends in Los Angeles, who said, "Why don't you do what you love? Yoga." Suddenly, there was a different impetus. 'tribeca' became 'triyoga'. These friends, Bridget Kramer, who was a teacher at YogaWorks, and her husband Lee were originally going to help set up triyoga, but decided not to.
people who mattered
Once the building was found, Ford helped with the new business plan and marketing. On the back of this, I was able to raise the funds from a group of investors to create triyoga. David Svendsen, who was then Chairman of Microsoft ,was a supporter from early on and became one of our key investors, as well as the Chairman of triyoga. Simon Low joined to be our Director of Yoga – a role he kept until 2002.
guidance + gratitude
We opened triyoga Primrose Hill on 19th February, 2000. There were many trials and tribulations, from when we found the building, the day we opened, where we are now and where we're going forward. Whatever obstacles came up, a way through emerged. I felt there was always the hand of grace guiding us. I am grateful for everyone who was involved in the early days and those who continue to keep triyoga shining today.
keep in touch
sign up here to receive our special offers, latest news, event invitations and more... How do we use your data? Read our
privacy and cookie policy.