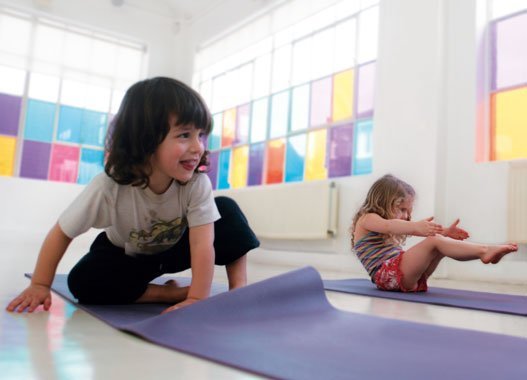 yoga for kids
at camden, chelsea, ealing + shoreditch during term times only
classes for children aged 4 – 6, 7 – 9 and 10 – 12 years, plus teens
Yoga is for everyone – and you're never too young to start. Kids yoga classes are a wonderful way to increase children's co-ordination, self-awareness, confidence and self-esteem while they stretch and strengthen their bodies. Using yoga, children can learn to relax, concentrate and be gentle in a fun and creative environment.
Physical activity is a key part of learning and development and changes as the child grows up. For toddlers, classes tend to focus on moving the body, making shapes and starting to balance. At around six years old, the yoga becomes more fast paced to help build concentration. Then, as the lungs develop, aged eight they learn how to slow the mind through breathing. For older children, aged nine and up, classes might include relaxations to deal with stresses from school, plus postures to build strength and confidence.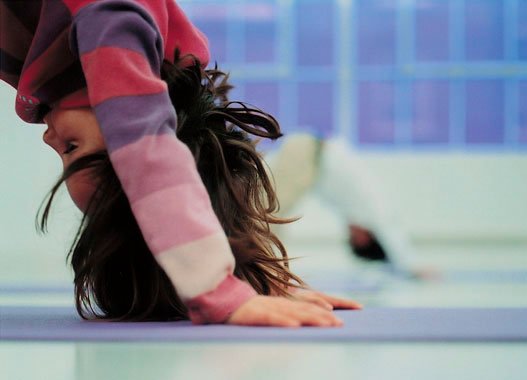 toddlers (2-3.5yrs) yoga
at triyoga camden
This 45-minute class is for toddlers from crawling to four years old. It's a fun and interactive class, for both the toddler and the parent, with yoga shapes, games, sounds and movement to help with the toddler's development. This includes improving spatial awareness, co-ordination, creative expression and motor skills. It's also a nice calming space, helping toddlers to deal with any hyperactivity.
the benefits of kids + toddlers yoga
physical benefits

Develops good posture
Helps maintain a child's natural flexibility
Supports growing bodies and tones and strengthens the body
Stabilises core muscles and maintains joint mobility
Supports the immune, respiratory, circulatory systems
Prevents sports injury
Improves co-ordination and balance
Promotes healthy sleeping patterns and teaches the body how to relax
mental + emotional benefits
Builds social confidence as kids interact with kindred spirits
Improves self-confidence through breathing techniques and encouraging children to use their voices
Releases day-to-day anxieties such as separation issues, bullying, lethargy and feelings of negativity
Offers a space for children to express their emotional state in a physical way
Improves memory retention which helps children learn more easily and improves concentration levels
keep in touch
sign up here to receive our special offers, latest news, event invitations and more... How do we use your data? Read our
privacy and cookie policy.