Jonathan Sattin, founder of triyoga, shares how to book in centre, live stream and online classes, as well as information about the new schedule. 
Hello and I trust that you and your loved ones are still healthy and well.
I've been going to our Camden centre over the last few days as we've been having various trainings (more about this separately) and seeing some of our teachers and teams, physically for the first time in over four months. It's really nice seeing our people again. It has also given me the chance to assess firsthand the new safety protocols to safeguard all of us including temperature checks, social distancing and masks inside the building. We have also opted to invest in safety equipment above UK Government guidance, to maximise client and staff safety. (More about that separately.)
People talk about the 'new normal'… we have to come up with a better phrase.
We're now only a week away from our centres reopening and the new schedule is live – ready to book your favourite classes! As I mentioned previously, you now have 3 ways to practise:
1 – in studio classes with limited numbers, in compliance with the latest distancing guidelines
2 – live streamed in-studio classes (join an in studio class from any of our five centres from home)
3 – our existing online classes (taught from teachers' homes)
In studio classes
As we are limiting capacity and have a reduced number of classes at this stage (we plan to add more classes over the next few months if we can), you can book the in studio classes through your app or our website in the normal way. As these classes may be full quickly you can still join that class via live stream. Rest assured when live streaming any of our classes no students will be in camera shot.
Live stream classes
Booking live stream classes, either as a first choice or in the event the in-studio class is full is easy on the website but needs some additional steps through the app:
On the app, by default the in-centre class schedule will load on initial opening. To select a live streamed option, click menu and choose live streams. (Screen grab of app shared below) We will remind you that you can book a live stream class with the below message (in red) which will be displayed at the bottom of every class description in the app and on the website.
************
Class full or like to practise from home? You can join this class via live stream. Click "live stream" to book on our website, or in the app, click the menu icon and choose 'Live Streams' to book the live stream version of this class.
************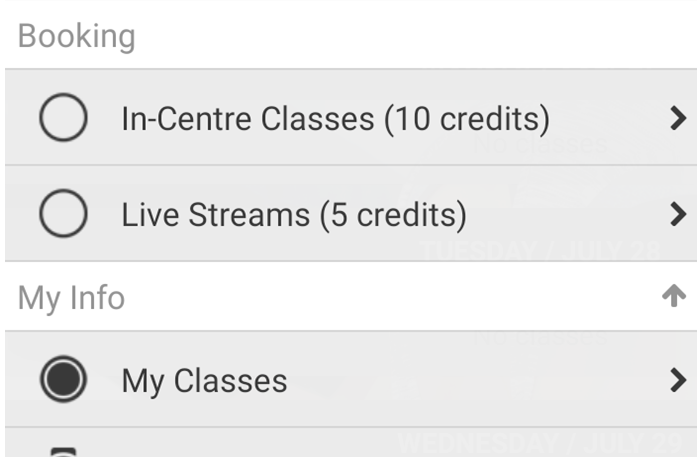 Online classes
These will be bookable in the normal way via our app and our website.
To be honest, our IT systems are feeling a bit stretched in this change (aren't we all – but it's good for us) but we'll get there. If you experience any problems please let us know.
You will notice that outstanding passes have been reactivated, converted to the new credit system and are ready to use to book classes using all of the three options. Memberships have also been updated.
Now let's talk about the class schedules. Our aspiration was the pre-lockdown schedule as closely as we could. Our teachers supporting the new schedule include most of our long serving favourites including Nadia Narain, Jean Hall, Louise Grime, Leela Miller, Diana Holland, John Wadsworth and Anna Ashby as well as some new to triyoga including Helen Russell Clark, Jo Joseph and Emma Peel.
Some of our favourite teachers have chosen to delay their return because they are shielding loved ones or are not quite ready to come back until the Autumn, which we fully support – but in the words of that actor, they will be back. I will provide you with more details over the next few days and in the meantime if you would like to take an in-studio class, spaces are limited.
There will be a number of additional topics I need to update you on, as I am sure you will appreciate, so I will keep them as brief as possible as I endeavour to keep you fully informed.
I look forward to welcoming you back.
Jonathan