yoga for mums to be
Pregnancy yoga is suitable for both beginning students and experienced practitioners. During pregnancy, yoga can play a key role in enhancing the experience of this precious time and empowering the mother-to-be to have the most conscious birth experience. Yoga can help women enjoy their pregnancy with minimal discomfort, cultivate breath awareness and strengthen the body in preparation for labour. Yoga also offers you the opportunity to connect with your baby, and coming to classes is a great way to feel part of a community of pregnant women.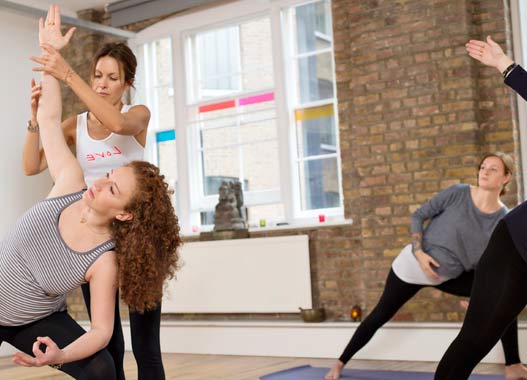 when to practise
It's never too late to practise prenatal yoga! So if you are past your first trimester, come along and experience the benefits of yoga under the care of our expert pregnancy yoga teachers. General guidelines are that you do not practice yoga during the first trimester. Start in the second trimester and continue your classes until before birth. Be conscious of how your body feels and seek medical advice regarding any health issues.
yoga for new mums + parents
At triyoga, bonding with your little one is not a solitary affair. Postnatal yoga classes are a great way to heal, strengthen and nurture yourself without needing a babysitter. Bring your little one along for some parent-baby bonding and be part of a community of new parents. Class included Mummy + Me (and Dads too!) yoga sessions as well as baby massage classes.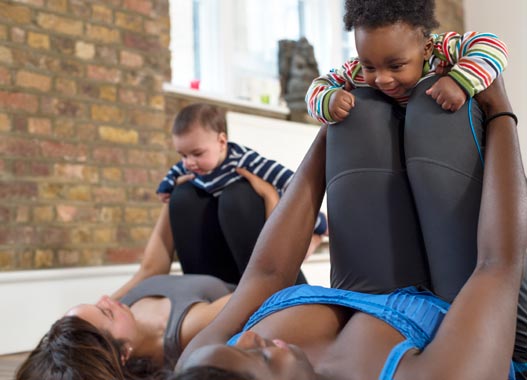 when to practise
It is important to rest initially. The first 6 weeks after birth are a time for bonding with the baby and for the mother to recover. By the end of the first eight weeks of the postnatal period, women should be ready to return to their regular practice, but it is important to listen to what your body is ready to do. Women with a yoga practice prior to pregnancy should be careful and not rush back into their usual yoga practice. Consult your GP for advice on when to resume practising.
the benefits of pre + post natal yoga
benefits of pregnancy yoga

Increases your energy
Empowers the mother-to-be to have conscious birth experience
Keeps you fit whilst being sensitive to the baby and you
Decreases anxiety
Strengthens birthing muscles
Quickens postpartum recovery
Improves sleep
Reduces backache
Improves circulation
Promotes healthy birth
benefits of postnatal yoga
Strengthens the back, abdominal and pelvic floor muscles
Releases tension in shoulders and neck muscles
Helps to improve posture
Decreases overall stress and promotes relaxation
Rejuvenates the mind and increases energy
Builds patience and inner-calm
Brings fun and pleasure to both parent and baby
Provides an opportunity to connect with other parents
Creates a safe environment to bond with baby and toddler
keep in touch
sign up here to receive our special offers, latest news, event invitations and more... How do we use your data? Read our
privacy and cookie policy.