triyoga 200-hour yoga teacher training
starting Saturday 26 June 2021
with Susannah Hoffman
free information evening on
Thursday 13 May 2021
overview
Join Susannah for a free online information session on Thursday 13 May at 6.30pm (BST). Click here for more information.
Contingency plans are in place to move the training fully online should external events require it. Given the pandemic, triyoga reserves the right to move the course fully online if safety is compromised.
triyoga's yoga teacher training is fully recognised and accredited by Yoga Alliance Professionals (Yoga Alliance UK) and Yoga Alliance USA. It has been running since 2005 and is established as one of the leading trainings in the UK.
This 18-month long training comprises more than 200 hours of tuition and practice. The in-depth programme covers asana, pranayama (breathing practices), meditation, philosophy, anatomy & physiology, as well as discussions on contemporary topics such as diversity & inclusion, how to navigate social media, your yoga CV and more.
For all intakes, anatomy and physiology sessions are taught by experienced yoga teacher and osteopath Chris Swain. Philosophy and meditation sessions are taught by SOAS scholar Daniel Simpson, who provides one of the most comprehensive groundings in yoga philosophy of any teacher training diploma in the UK.
In addition, this Summer's intake will be lead by Susannah Hoffman supported by four fully qualified teaching assistants.
Susannah has been teaching on the triyoga teacher training for fifteen years and offers a wealth of experience both as a teacher and teacher trainer. If you never practised with Susannah and are considering this course, head over to the schedule and book one of her classes.
Susannah's class schedule: click here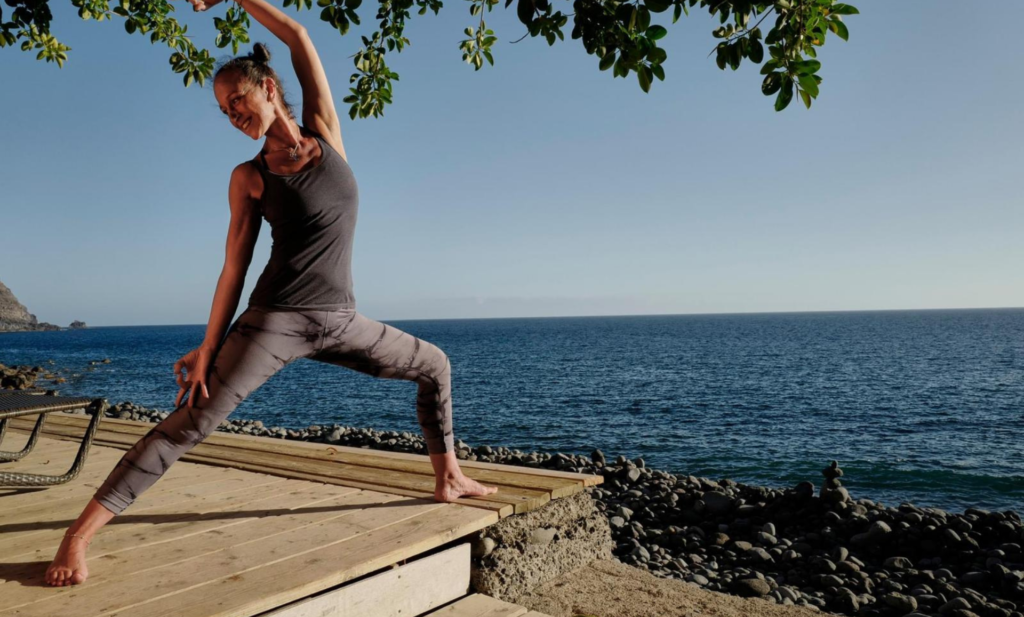 "Susannah has so much knowledge about yoga, the body, and how people learn and process things. She is utterly passionate about passing that on while respecting the origins of the practice. Susannah is as warm as she is direct and truthful – and you will become a much better teacher for it. She cares about the type of teacher you will go on to be and pushes you to get the most from the course. I'm really grateful to her for that." Sian Gulliver

"I chose to embark on the 18-month triyoga teacher training thanks to its excellent reputation of incredibly thorough content, delivered by highly respected teachers – It did not disappoint! Susannah's wealth of experience and knowledge shines through in the playful and creative ways she teaches and sequences her classes. Her methodical approach left me with a much deeper understanding of the anatomical components of each posture as well as how to safely guide students in and out. Susannah also brings a touch of spirituality and philosophy to the asana practice, encouraging trainees to take a deeper look at what's going on below the surface. This TT is a journey – I found the time between modules really allowed me to reflect, digest and integrate the content into my life as yoga practitioner and teacher in training, and I graduated from the course a different person to the one who started, feeling ready to go out into the world and teach." Sarai Littlechild
course content
Modules take place on weekends, with some rare exceptions.
Teaching methods include: lectures in-person and online, experiential classes, group work, practice teaching time, exercises for learning and discovery, and review of homework.
The modules cover the following general areas:
evolution of your own practice and focus on understanding of what's happening in your body/mind as your foundation to teach
de-construction and analysis of key poses, their core alignment points and how to teach them
common postural problems, modifications, safe practice and preventing injury
how to make sensitive adjustments
essential pranayama, breath awareness and restorative yoga
practical anatomy & physiology, including conditions you may encounter when you teach
different approaches to meditation, personal and experiential teaching practice
the history of yoga
foundation in the main yoga philosophy schools including tantra, hatha, vedanta and raja yoga
basic sanskrit
teaching skills including articulation, class planning and sequencing
common issues arising out of a teaching practice such as covering classes, teaching one to one and groups
essentials of setting up your own yoga business
a range of contemporary topics including cultural appropriation, diversity and inclusion, consent and how to write a yoga CV.
course structure
consistent, focused learning
Students are taught, tutored and supervised throughout by the same tutor, providing a grounded consistency where you can be sure that those who are teaching you are familiar with your practice and your development as the course progresses. While we wholly encourage you to develop your own teaching practice, we feel that this can be best achieved under the consistent and watchful eye of a few key teachers.
personal tutor
Susannah will monitor your progress throughout the course. You will meet her one-to-one formally on at least two occasions during the course to discuss your development as the training progresses.
You will also be assigned a mentor who, in consultation with Susannah, will assist you with any concerns you may have and help when necessary, and identify any key areas that you might benefit from paying particular attention to.
assessment + graduation
The triyoga teacher training course is a combination of continuous assessment, practical and written examinations. After each module, reading and written work are set. Towards the end of the training, there are slightly longer pieces of work in each subject area to complete plus a multiple-choice test in anatomy.
additional hours
Outside the weekend modules, you will also be required to attend:
90 additional class or workshop/course hours for your own practice development
15 hours observing (minimum) – social distancing dependent
18 hours assisting (minimum) – social distancing dependent
6 hours first aid training (external)
1 hour personal tuition (minimum)
2 hours observed class teaching
extra hours are needed and scheduled during the course for the practical assessments
Ideally attendance, observing and assisting sessions (when possible) should be done at triyoga. However, we realise that for some this may not be possible. In such cases, attending, assisting and observing hours may be taken with teachers in the UK or abroad, provided the teachers are approved by the triyoga faculty.
learning outcomes
The course is designed to provide students with:
an embodied, self-aware knowledge that will enable you to teach Level 1 asana classes confidently and competently
awareness of safe practice for both teacher and student through modification and sequencing of asanas to suit an individual's body
self-confidence and belief in your ability to communicate and demonstrate
understanding of risk assessment and first aid
step by step guidance in designing a 6-week beginner's course that you can immediately apply in your teaching
a thorough grounding in the history and philosophy of yoga
insightful awareness of your own practice: both an acceptance of its limits, and the tools to evolve an experiential foundation of yoga philosophy and how to integrate this into your life
thorough knowledge of anatomy and physiology and its application in the practise of asana and how to teach safely
practical advice on how to set up your own yoga business from people who already have
an awareness of the issues that can arise for you as a teacher
a professional and ethical framework from which to practise
eligibility + pre-requisites
Applicants should have a minimum of two years' consistent yoga practice.
If you never practised with Susannah it is strongly recommended you signed up to a few of her classes.
graduation
Graduation from the training is not a given. All areas must be complete and passed before certificates are issued.
On graduation students receive the following certification:
Certification of Excellence from triyoga Education
Eligibility to join Yoga Alliance Professionals at Associate – Level 1 status
Eligibility for Yoga Alliance USA 200 RYT
Eligibility to register as REPS Level 3 (Yoga)
accreditation
The triyoga teacher training is fully recognised and accredited by Yoga Alliance Professionals (UK) at 200 hours level and by Yoga Alliance USA at 200 hours level.

additional information
The asana is taught in London at triyoga Soho and Camden. Most of the philosophy and the anatomy will be taught online, with a return to the studios for these subjects in 2022.
Contingency plans are in place to move the training fully online should external events require it. Given the pandemic, triyoga reserves the right to move the course fully online if safety is compromised.
frequently asked questions
How long is the course?
The course lasts 18 months and comprises 200 hours of tuition and much more of practice. A schedule of modules for the upcoming training can be found above.
How often does the course run?
We commence two training intakes per year, in June and in November.
Can I complete the course in less than 18 months?
It is not possible to compress the course. We do encourage our students to start teaching around a year or so into the course.
What style of yoga is taught?
Our approach is non-dogmatic and inclusive. We encourage all of our students to discover their practice and orientation through their own experience and enquiry. Therefore, we welcome applicants from all orientations of yoga.
How is the course material delivered?
Teaching methods include: lectures, in centre and online, experiential classes, group work, practice teaching time and individual homework and exercises to encourage in depth learning and discovery. Handouts will be shared for all subjects. Course books are not included and will need to be purchased separately.
Do I need to live in London?
Many of our students do live in or around London, but several of our students travel in from much further afield: Jersey, the West Country, Wales, Scotland and even mainland Europe.
Is it possible to work full time alongside the training?
Absolutely. Many of our students work full time and/or have families. The majority of the contact hours on the training take place over weekends.
How much homework is there?
The triyoga teacher training course is a combination of continuous assessment, practical and written examinations. After each module, reading and written work are set. Towards the end of the training, there are slightly longer pieces of work in each subject area to complete. There is work to do: on average, past students have set aside between 5 – 10 hours to complete coursework per week in addition to attendance at the weekend modules.
How much practice will I be expected to do?
We recommend that you begin regular classes (a minimum of 2x per week) with course tutors or teachers approved by the course tutors. In addition, it is strongly recommended that you begin self-practice at home. This will enable you to experiment creatively, question and work toward integrating what you learn in class. Ultimately, this training is about you discovering your own embodied understanding of yoga and teaching from your personal experience and process of inquiry. To do this effectively requires self-practice, contemplation, meditation, acquired knowledge and experience.
As a requirement of the training students must attend a minimum 90 hours of taught classes, observe a minimum 15 hours of classes and assist a minimum of 18 hours of classes (social distancing dependent).
What happens if I miss a module?
In the event that you miss a weekend (or a section) of training, the manner in which you can catch up on the content will depend on the type of session you missed. If the session was anatomy and physiology or philosophy, you'll be able to catch up via the recordings or join this session with another intake at no extra cost.
If you miss an asana component, you will need to agree on a catch up plan with your tutor. This may include attending an extra session with your tutor charged at £60 per hour (split between all students who have missed the module). We ask students not to miss more than two modules over the duration of the whole course.
I have particular learning needs, is support available?
Yes. We have policies in place to support students with particular learning needs. Please contact us to discuss your individual situation.
Where does the training take place?
The majority of training modules take place at triyoga's Soho studio. On rare occasions modules may also take place at our Camden studio or at another London location. Philosophy and anatomy will be delivered mostly online.
How do I apply?
All applicants must fill in an application form – please submit an enquiry to download an application form or email flavia@triyoga.co.uk. Aside from personal details and information about your yoga experience, we ask for a contemplation and a reference from your yoga teacher.
Completed application forms should be emailed to flavia@triyoga.co.uk.
The £20 application fee can be made by one of the following methods:
BACS transfer – please contact flavia@triyoga.co.uk for bank details
How much does the course cost?
Course fee: £4250 (£ 1,000 non-refundable deposit)
Discounted fee available if you pay for the whole course up front: £4200
Course fees are non-refundable and include all tuition, mentoring, course manuals and handouts. Required texts are not included.
Can I set up a payment plan?
Yes. We will require a non-refundable deposit of £1,000 up front and then monthly payments of £179.45. for the length of the training (18 months).
Are there any extra costs?
Yes, these include:
– First Aid course
– Required texts
– Classes: students have 50% off triyoga classes
Do you take on everyone who applies?
We have many more applicants that we have places, so once the closing date for applications has passed we will interview all candidates.
We take a maximum of 25 new students onto each intake.
My hamstrings are super tight and I can't do a headstand, can I still apply?
Absolutely! Though we are looking for students who have an established, serious practice, we know and understand that all bodies are different. We will be looking at your intention toward practice and how you work with your body as it is now. More importantly, we consider your potential for growth and development as a dedicated practitioner and teacher.
I have an injury, can I still apply?
Depending on the nature of the injury you may want to contact us during the application process to assess how your injury will impact on your participation in the course.
Am I too old to apply?
No! We do not have an age limit. Current and previous students on the course have ranged in age from early 20s to mid 60s.
What happens at the interview?
All applicants who have submitted a complete application will be invited to interview. The interview is in two parts.
The first part will be a face-to-face chat with one of the main asana teachers on the programme. We will give you a timeslot for this. These interviews will take place at triyoga head office in Primrose Hill, or if need be, online. The second part takes the form of an asana class for all applicants which will be held at one of our studios.
How can I prepare for my interview?
Take some classes with one, other or both of the main asana teachers, reflect on their teaching style and approach. Review your contemplations from the application form – think deeply about why you want to do the training. Consider what information you need from us to help you to decide whether you take up a place on the training, if offered.
When will I know if I have a place?
Successful applicants will be offered a place on the training during the week following the interviews. If your application is not successful this time round, we can carry it forward to a future training. We will be able to offer some feedback on your practice and suggest classes or teachers that you might like to attend.
What benefits do I get as a triyoga trainee?
Trainees receive 50% discount on classes. If you visit triyoga 3 times per week this price is equates to a 70% discount on our regular class price. Discounts for some triyoga workshops are also available and 10% off all triyoga shop purchases.
What happens if I become pregnant?
In the event that you become pregnant, the teacher training administration and teachers undertake to be as flexible as possible and support you to work out the best way forward. We have a set of guidelines for students who have become pregnant to help them through the training and our aim is to ensure that you are given the necessary support.
What happens if I get injured?
In difficult circumstances (e.g. injury) the teacher training administration and teachers undertake to be as flexible as possible and support you to work out the best way forward. Subject to prior consultation with the teacher trainers and a fully qualified medical practitioner, if you suffer an injury you may come to sessions and adjust the poses to suit your condition or observe as is appropriate.
Our intention always is to try to find ways of helping students complete the training on the intake originally applied for. However, we understand that there may be some instances where it is not possible to continue and a deferral to another intake may be necessary.
What happens if I want to leave the course?
It is our aim and policy to facilitate trainees who may be experiencing difficulties either with the training or in other areas of their life so they are able to complete the teacher training programme. However, we understand that in some circumstances this is not possible and students have no choice other than to leave the programme. In this instance we will be unable to give you a certificate or graduate you from the training and your course fees for the remainder of the training are still due unless an exemption applies.
When can I start teaching yoga?
Once you have a valid first aid certificate, and a valid insurance certificate you will be able to teach outside of the training weekends. We encourage students to start teaching friends and family as soon as their course tutors give them the go-ahead. Many students start organising and teaching public classes around a year into the training.
What qualifications do I get at the end of the training?
On graduation you will receive the following certification:
– Certificate of Excellence from triyoga Education
– Eligibility for Yoga Alliance Professionals (UK) Associate Teacher – Level 1 status
– Eligibility for Yoga Alliance USA RYS 200
– Eligibility for REPS Level 3 (Yoga)
Where can I work after I've graduated?
Our graduates work in yoga studios, gyms, church halls, community centres. Some set up corporate classes or volunteer. You will have the relevant experience, qualifications and insurance to develop your teaching career in the way that works for you.
Students may to decide to develop more specific skills in areas that are of particular interest to them: for example, pregnancy yoga, teaching yoga to children, restorative yoga, mindfulness and meditation or hot yoga.
There are opportunities for our very best graduates to become Teaching Assistants on the TT programme. Many of our past graduates now teach classes at triyoga studios.
I have more questions, who can I speak to?
Contact Flavia flavia@triyoga.co.ukor call 020 7449 3151.
Can I cancel my monthly pass?
Yes, you can cancel your monthly pass. Please note that there is a £30 fee for cancellations made within the first 12 months of your agreement. To cancel or suspend, please email hello@triyoga.co.uk
timings
application deadline:
Fri 11 June 2021
interviews:
Saturday 19 June
information evenings:
Thursday 13 May, 6.30pm, online
course start: Sat 26 June 2021
cost
application fee:
£ 20 (discounted from course fee if accepted onto training)
discount fee:
£50 (available if you pay for the whole course fee up front)
venue
triyoga Soho + online
application
The application form for the Summer 2021 intake can be downloaded by clicking the red 'application form' button above.
Please complete the form, following all the instructions, and together with a portrait photo email it to flavia@triyoga.co.uk
contact
flavia@triyoga.co.uk
020 7449 3151
faculty
Susannah Hoffman has been teaching for over 25 years and teaches adults, children, toddlers and Mummy and me at triyoga Camden.
She also teaches ongoing beginner courses, the triyoga teacher training and created the 'Teaching yoga to children' training' at triyoga. As well as being author of the best seller 'Yoga for Kids' published by DK, she is a fully qualified BWY Teacher and a Senior teacher with Yoga Alliance Professionals UK.
Chris Swain
Daniel Simpson
Anji Gopal
Lisa Sanfilippo
keep in touch
sign up here to receive our special offers, latest news, event invitations and more... How do we use your data? Read our
privacy and cookie policy.