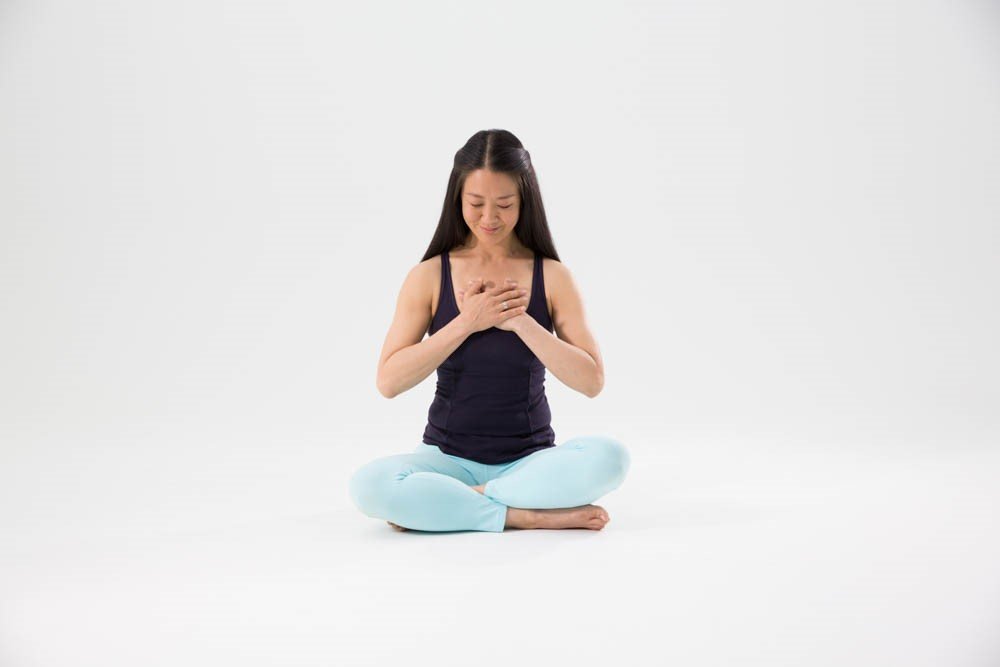 mindfulness: a teachers' immersion
with Mimi Kuo-Deemer
23 + 24 february 2019
2 – 3 march 2019
overview
This four-day immersion is aimed at sharing mindfulness in a way that can be of benefit to yoga teachers as well as teachers in training. It is also focused on providing practical tools from the mindfulness tradition to students, enabling them to engage with their yoga practice in skillful, kind and insightful ways.
While mindfulness has become a catch-word in today's culture, the roots of mindfulness stem from ancient and powerful ideas originally set forth by the Buddha. This immersion will explore the modern-day value of the Buddha's teachings on mindfulness, and how they may support practice within the contemporary yoga world.  Drawing on the Satipatthana Suttas, or Foundations of Mindfulness, each day of the immersion will explore one of the four foundations of mindfulness as it relates to āsana practice and teaching: Mindfulness of Body, Mindfulness of Vedana (sensations or feeling tones that are pleasant, unpleasant or neutral), Mindfulness of Thoughts and Mindfulness of Dhamma (the path, truth, as well as all thought, emotion and intention).  Through a highly experiential and embodied approach, we will consider the ways our role as yoga teachers can be supported and guided by the benefits of mindfulness. It will also orientate us toward ways we can share what we love with qualities of metta (lovingkindness), vipassana (insight) and prajña (wisdom).
In addition to meditation practice, each day will include active practice of yoga āsana and some qigong (a Chinese energy art form).  Emphasis will be placed on understanding how to approach and teach movement-based practices within a mindfulness framework.  Structural and practical methodologies such as using language, introducing and developing themes and weaving narratives into class will be covered. Participants will be given techniques for presenting and sharing mindfulness in accessible, informative and enlivening ways.
Topics will include:
Cultivating the art of bringing mindfulness and the gifts of embodied presence, compassion and insight to the yoga classroom.
Working with metta (care), vipassana (insight) and prajña (wisdom) in movement.
Exploring how triggers within our experience of doing yoga can precipitate our habitual and reactive patterns, and understanding ways to become free from these tendencies.
Learning to perceive and work with both our and our students' tendencies toward skillful and unskillful thoughts and judgements.
Fostering valuable resources and skills from within mindfulness to help meet some of the difficulties of being in the role of the teacher such as selfing (inflationary and deflationary tendencies) and working with the voice of the inner critic (comparison, judgement, and the imposter syndrome).
Considering the obstacles as well as the freedom that arise from steady mindfulness practice.
course content
Day One: Mindfulness of Body: Awakening the Wisdom and Intelligence of the Body
Day Two: Mindfulness of Vedana (feeling tone): The Gap Between Stimulus and Response
Day Three: Mindfulness of Thoughts:  The Inclinations of Mind and Our Emotional Signatures
Day Four: Mindfulness of Dhamma: Living in the Light of Our Own Understanding
course structure
23th February: 09.45 – 12.30 + 14.00 – 17.45
24st February: 09.45 – 12.30 + 14.00 – 17.45
2nd March: 09.45 – 12.30 + 14.00 – 17.45
3rd March: 09.45 – 12.30 + 14.00 – 17.45
eligibility + pre-requisites
This immersion is aimed at teachers and teachers in training, or students with at least three years of consistent yoga practice. 
accreditation
This training meets Yoga Alliance USA, BWY and Yoga Alliance Professionals requirements for CPD
additional information
In the event that you are unable to complete the training due to exceptional circumstances, any exemptions to fulfilling your requirements, including your financial obligation, are at the discretion of triyoga Education.
next course
dates: 23-24 feb + 2-3 march 2019
tutor: Mimi Kuo-Deemer
cost: £495
venue
triyoga camden
contact
flavia@triyoga.co.uk
020 7449 3151
faculty
Mimi Kuo-Deemer
keep in touch
sign up here to receive our special offers, latest news, event invitations and more... How do we use your data? Read our
privacy and cookie policy.