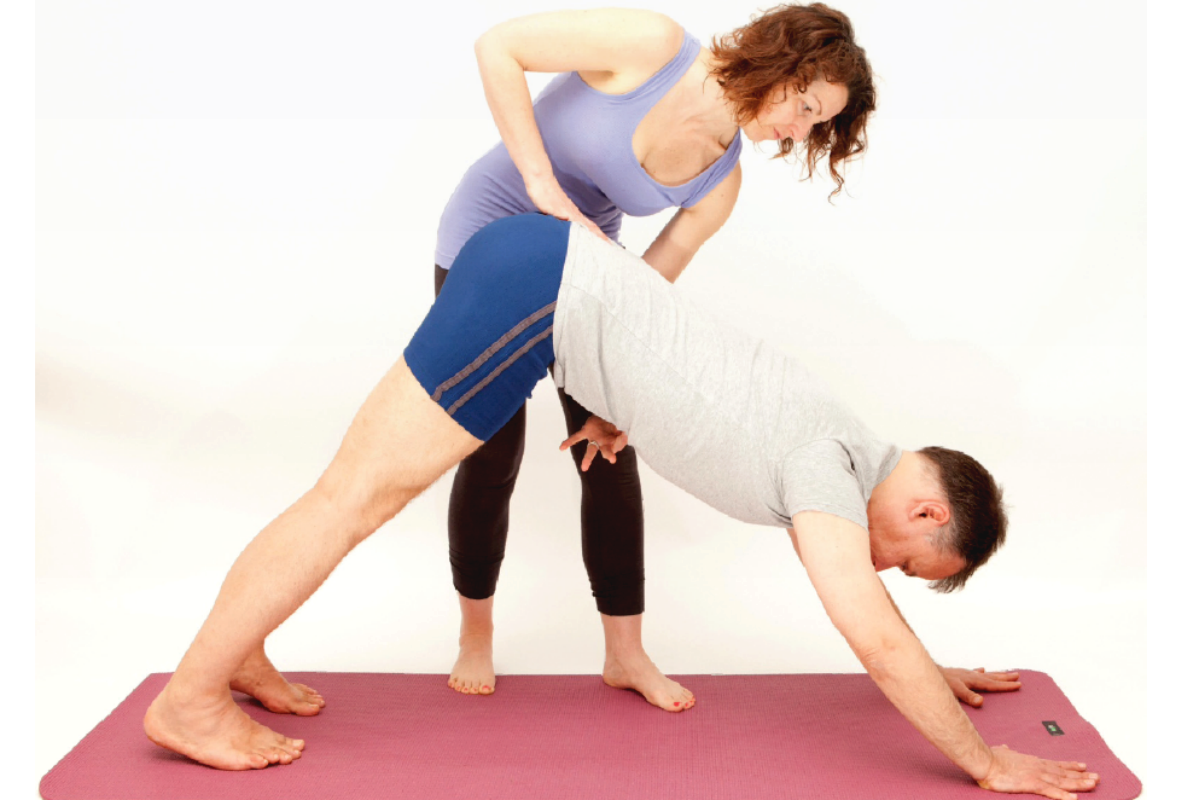 the art of teaching one-to-one
with Kate Ellis
9-10 feb, 9-10 march,
6-7 april 2019
overview
Teaching  yoga one-to-one is a completely different experience to teaching a class. In order to realise the full potential of working one-to-one, it is necessary to cultivate a level of awareness, which extends both to our clients and ourselves in physical, mental and emotional relationship. In this way, a profound and lasting transformation becomes possible.
This training will be divided into deepening teaching skills to effectively meet the needs of the individual and developing relational skills for working with the depth and intimacy that's possible in one-to-one teaching. It will aim to highlight how working in an embodied and relational way also leads to working therapeutically. 
Applicants must either be currently taking, about to begin, or have successfully completed a yoga teacher training diploma to teach students to at least beginners/level 1 standard.
Kate is passionate about teaching yoga 1-2-1. Having had a dedicated practice with one teacher for ten years in a 1-2-1 setting she's experienced the depth that this modality can truly offer. Kate is also a practicing body psychotherapist and has been training and supervising yoga teachers for over ten years. She brings all of her skills and experience to this training and offers further training for students who wish to go deeper. She is currently facilitating a growing community of teachers whose main profession is teaching yoga 1-2-1 and is also writing her first book on the subject. To find out more visit www.theartofteachingyoga1-2-1.com or www.kateellisyoga.co.uk
"This workshop leads you to a deep understanding of how to follow your intuition and connect with your client. With an in-depth, anatomical, basis it is cleverly structured to allow the more esoteric aspects of working one to one to emerge. Kate's years of experience, humour and excellent communication skills are supported with clear handouts that enabled us to deepen our understanding, build on our knowledge and develop our trust in ourselves." Luci
"I really enjoyed the course and feel that it will add depth to my teaching and has taught me something about the less 'tangible', more relational side of teaching which I have not learnt about anywhere else. I would definitely recommend this course." Janet
course content
This course will cover:
Reading a body: we will develop our understanding of the relationship between bones, muscles and fascia and investigate compensatory patterns and imbalance. Learning how to move all three tissue types in harmony gives us a much greater understanding of how to modify and prescribe poses, making tailoring for individual clients much more effective. Here we'll also explore ways of developing our perception of energy and learn techniques and implications for the release and containment of it.
Structuring a session: we will learn how to evaluate a client's needs and compose sessions that are uniquely tailored for them, including how to track and process information as we teach.
Common injuries:  we will learn practical approaches to working with common musculoskeletal problems and crucially, consider the contention that no injury and no body is the same
The art of touch: we will learn hands on skills to help you take clients into a deeper practice. We will learn effective techniques for releasing fascial restriction and assisting muscles to recover from motor amnesia. In this part of the course we'll also develop our sense of touch and how our embodied awareness impacts upon how we 'make contact' with our clients.
Embodiment: continuing to delve deeper into our own practice and sense of embodiment we'll explore how this affects the relationship that we have with our clients.
Moving beyond the physical: by increasing our sense of spaciousness and boundary and developing 'the witness' we begin to safely explore the greater aspects of inter-relatedness and emotional regulation. This will help us to develop skills for supporting the emotional responses that clients sometimes have.
Boundaries and ethics: here we learn more about the importance of good boundaries to allow for the depth and intimacy of working one-to-one. Sharing ideas of good business practice will form part of this discussion as will the relevance of self-care and supervision.
Sangha: overall this training will provide a forum to explore and exchange ideas and experiences with fellow teachers and feel the support of community.
course structure
Weekend One
Saturday 9 February 09.45am-12.30pm and 14.00-17.00pm
Sunday 11 February 09.45am-12.30pm and 14.00-17.00pm
Weekend Two
Saturday 9 March 09.45am-12.30pm and 14.00-17.00pm
Sunday 10 March 09.45am-12.30pm and 14.00-17.00pm
Weekend Three
Saturday 6 April 09.45am-12.30pm and 14.00-17.00pm
Sunday 7 April 09.45am-12.30pm and 14.00-17.00pm
eligibility + pre-requisites
For teachers and teachers in training
accreditation
This training meets BWY and Yoga Alliance Professionals requirements
next course
dates: 9-10 feb, 9-10 march,6-7 april 2019
tutor: Kate Ellis
cost: £495
venue
triyoga camden
contact
flavia@triyoga.co.uk
020 7449 3151
faculty
Kate Ellis
keep in touch
sign up here to receive our special offers, latest news, event invitations and more... How do we use your data? Read our
privacy and cookie policy.